Yay! I Found Yet Another Reliable AUR Helper
Howdy Arch Users! I've got a good news for you. Today, I stumbled upon yet another reliable AUR helper called "Yay". Yep! the name of this AUR helper is Yay. Currently, I use Pacaur for installing AUR packages. It does great job and I really like it. I also have used other AUR helpers such as Packer and Yaourt in the past. After reading its features, I thought to give "Yay" a try and see how things works. So, here we go!
Yay – Yet another Yaourt, an AUR Helper written in Go
As the heading says, Yay, stands for yet another yaourt, is a new reliable AUR helper written in GO language. It provides an interface for pacman and also it has almost no dependencies. It provides yaourt like search feature and minimizes the user input greatly. Another notable feature is you can choose which application to install or update. Also, It supports AUR tab completion, so just type few letters of an AUR package and hit enter KEY to complete the name.
Installation
Yay is available in AUR, so you can install it using any AUR helpers.
Using Pacaur:
pacaur -S yay
Using Packer:
packer -S yay
Using Yaourt:
yaourt -S yay
Usage
Like any other AUR helpers, the typical way to install a package from AUR is:
$ yay -S <package-name-here>
Example:
$ yay -S mplayer
To search for a package in AUR and official repositories, use -Ss flag like below.
$ yay -Ss mplayer
aur/animewatch-pyqt5 4.2.0-0 (0) 
 An Audio/Video Manager and Front End for mpv/mplayer with special emphasis on Anime Collection
aur/delta-media-player 1.16-3 (0) 
 IPTV program stream player for DMPlayer
aur/phonon-mplayer-git 20120714.7217499-1 (0) 
 Mplayer backend for phonon, the multimedia API of KDE. (Qt4 only) GIT version)
aur/mplayer-autocmd-git 4.r18.3157ade-1 (0) 
 Per-file options and keybindings for mpv
[...]
We can also view information of a package in AUR or official repositories.
$ yay -Si mplayer
No request type/data specified.
[sudo] password for sk: 
Repository : extra
Name : mplayer
Version : 37916-2
Description : Media player for Linux
Architecture : x86_64
URL : http://www.mplayerhq.hu/
Licenses : GPL
Groups : None
Provides : None
Depends On : desktop-file-utils ttf-font enca libxss a52dec libvpx lirc libx264
 libmng libdca aalib libxinerama smbclient jack libmad libcaca
 libxxf86dga faac faad2 libxvmc mpg123 libcdio-paranoia rtmpdump
 libdvdnav ffmpeg
Optional Deps : None
Conflicts With : None
Replaces : None
Download Size : 2.15 MiB
Installed Size : 4.98 MiB
Packager : Maxime Gauduin <[email protected]>
Build Date : Mon 27 Mar 2017 12:44:49 AM IST
Validated By : MD5 Sum SHA-256 Sum Signature
To update all packages from AUR and official repositories, use -Syu flag.
$ yay -Syu
A good feature of yay is if you pass this command with no operation, then it will displays menu for package install selection.
For instance, when I run the following command (Note that there is no operation specified), it shows me the menu for package selection.
$ yay mplayer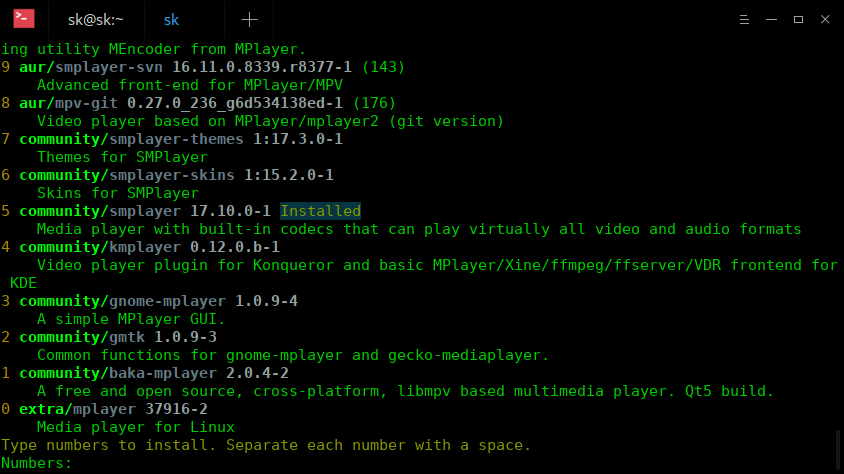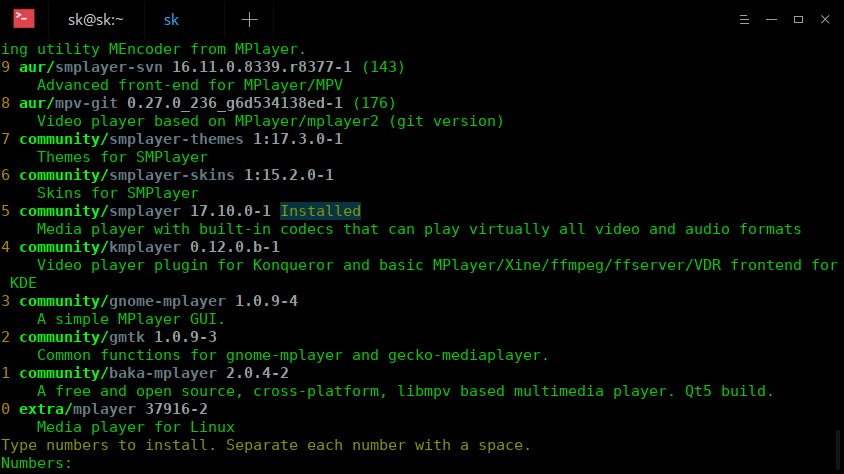 I had to type a number to install the respective package. Also, we can specify multiple packages with a space separation.
To install any packages without confirmations (without user interventions, of course), use "–noconfirm" option.
$ yay -S --noconfirm <package-name>
To remove unwanted dependencies, use -Cd flag as shown below.
$ yay -Cd
145408
acpid: 142.00 KiB
231510016
go: 226084.00 KiB
302080
gtk-engine-murrine: 295.00 KiB
1189888
gtk-engines: 1162.00 KiB
5219328
mplayer: 5097.00 KiB
349184
portaudio: 341.00 KiB
14652416
python2-opengl: 14309.00 KiB
1206272
vte: 1178.00 KiB
==> Confirm Removal? [Y/n]
For more details about yay, refer man pages.
man yay
While testing it, I found no issues and really Yay made me YAY! Yay is fully functioning and works well. I think I am going to stick with Yay for a while.
Hope this helps. More good stuffs to come. Stay tuned!
Cheers!
Resource:
Thanks for stopping by!
Help us to help you:
Have a Good day!!