uCareSystem Core : A Basic Maintenance Tool For Ubuntu
uCareSystem Core – An all-in-one system update and basic maintenance tool for Ubuntu
There are numerous tools out there for Ubuntu operating system's maintenance and administration. Today, let me introduce a new tool called "uCareSystem Core" to all Ubuntu users. This tool is very simple all-in one, system update and maintenance tool that can be used to perform some basic system maintenance tasks. This tool will automatically refresh your packagelist, download and install updates (if there are any), remove any old kernels, obsolete packages and configuration files to free up disk space, without any need of user interference.
Here is the list of processes that uCareSystem Core will do for you:
Updates all available packages.
Updates your Ubuntu system.
Downloads and install updates.
Checks for the list of old Linux Kernels and uninstalls them. Do not worry, though, as it keeps the current and one previous version and deletes all the previous one.
Clears the cache folder (the retrieved packages).
Uninstall packages that are obsolete and no longer needed.
Uninstall orphaned packages.
Deletes package settings that you have previously uninstalled.
All of above tasks will be performed automatically without any intervention.
Install uCareSystem Core
We can install uCareSystem Core either using PPA or DEB file.
1. Install uCareSystem Core using PPA
I tested this PPA on Ubuntu 16.04, however It might work on older Ubuntu versions, and Ubuntu derivatives such as Linux Mint.
uCareSystem Core developer have created a PPA to make the installation much easier for beginners.
To add the PPA, run:
sudo add-apt-repository ppa:utappia/stable
Update the sources list using command:
sudo apt-get update
Finally, install uCareSystem core using the following command:
sudo apt-get install ucaresystem-core
2. Install uCareSystem Core using DEB file
Download uCareSystem deb file fro your Ubuntu version from this link.
After downloading the .deb file install it as follows.
sudo dpkg -i ucaresystem-core_3.0-1+xenial2_all.deb

sudo apt-get install -f
Please note that this app will not update automatically if you install it from .deb file. If you want regular updates, always use PPA.
Usage
uCareSystem Core usage is simple and straight forward.
Open Terminal, and run the following command to start uCareSystem Core:
sudo ucaresystem-core
Sample output:
Once it is completed, you will see a message like below.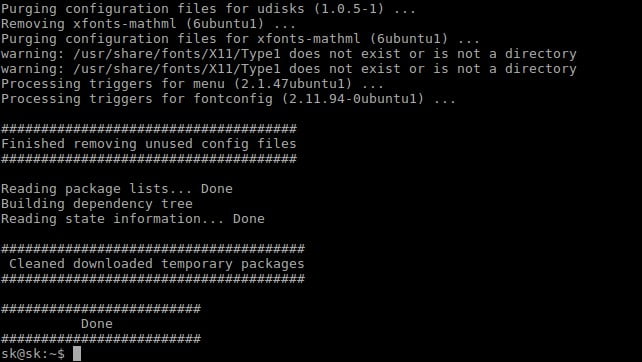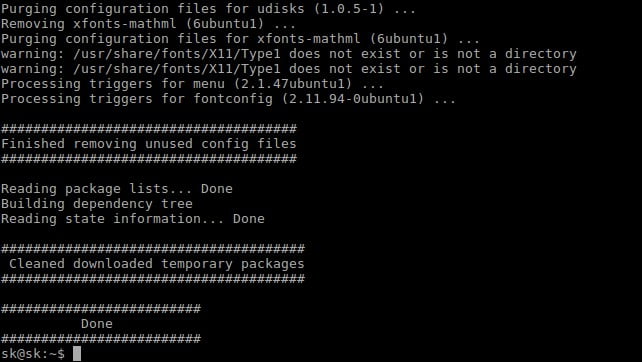 That's it. There is no obsolete packages, old kernels, old configuration files. You Ubuntu system is now clean and up-to-date.
Hope it helps. If you find this tutorial useful, please share it on your social, professional networks and support us. More good stuffs to come. Stay tuned.
Cheers!
Source and Reference link:
Thanks for stopping by!
Help us to help you:
Have a Good day!!