OnionShare – Share Files Of Any Size Securely And Anonymously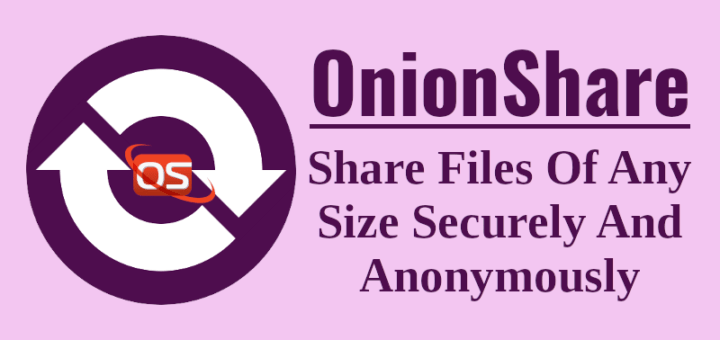 OnionShare is a free, open source file sharing application that can used to share files or folders of any size securely and anonymously over Internet. It works along with Tor browser which is used to securely and anonymously browse Internet. OnionShare will generate an unguessable and random-looking URL for the files or folders you want to share with others. It doesn't need any centralized web server or any third party services. All operations will be done within TOR network and nobody can track what you're going to share or download, except the recipient of course.
OnionShare has drag and drop option for files and folders, so that you can easily send or download them with a couple mouse clicks. There is no particular size limit to share or download files and folders and also you can share any number of files/folders at once. Once you started this application, It will copy the sharing URL automatically to the clipboard, and close it itself automatically once the operation is done. It is available in several language and supports international unicode filenames.
OnionShare doesn't reveal the user's identify or IP address to outside the Tor network. Also the files shared via OnionShare along with Tor network are cryptographically authenticated and private. OnionShare is developed and maintained by Micah Lee, a Technologist at The Intercept. It is available for Windows, MAC and Linux operating systems.
Installing OnionShare
OnionShare is available in AUR. If you're using Arch-based systems, you can install it using any AUR helpers as shown below.
Using Trizen:
$ trizen -S onionshare
Using Packer:
$ packer -S onionshare
Using Yay:
$ yay -S onionshare
Using Yaourt:
$ yaourt -S onionshare
The developer of OnionShare has created a PPA. If you are using Ubuntu, Debian, Linux Mint, open the terminal and type the following commands one by one:
$ sudo add-apt-repository ppa:micahflee/ppa

$ sudo apt-get update

$ sudo apt-get install onionshare
On other Linux distributions, you can compile and install OnionShare as shown here.
How To Share Files Of Any Size Securely And Anonymously Using OnionShare
Please note that if you have installed Tor browser and OnionShare separately, you must first launch Tor browser before opening OnionShare.
This is how Tor browser looks like.
If you have installed OnionShare bundle (using PPA or AUR) which comes with Tor browser, directly start OnionShare from your Menu or using application launcher.
The default interface of OnionShare will look like below.
Now, It is time to sharing the files and folders to other users.
Click Add and choose the file/folder that you want to share with others and click Start sharing button.
Give OnionShare a few seconds to establish a Tor network with other tor nodes. Once the connection is established, you will get the file sharing URL.
Then click Copy URL and send it to someone that you want to share the folder. Be mindful that this is the secret URL and you should share this URL via any secure medium. The developer of OnionShare recommend to use Off-the-Record encrypted chat to send the URL.
The person who is receiving the files and folders doesn't need to install OnionShare on his/her system. All they need is Tor browser only. The recipients can access the shared contents by navigating to the URL which you have sent via a secure medium. Just tell them to paste the URL on the address bar of the Tor browser and hit the Download Files button.
Once the file is downloaded, OnionShare will show you the download complete message.
This way you can share any files/folders of any size, as long as you have an active Internet connection on both sides, and Tor browser and OnionShare installed on your system and only Tor browser on the recipient's side.
By default, OnionShare will stop sharing the files/folders as soon as they are downloaded at the recipient side. You can, of course, change this behavior from the Settings tab. To open the Settings page, click on the gear button on the lower right corner and uncheck the button that says – Stop sharing after first download.
You can also set other sharing options, such as Use auto-stop timer. Also, you choose how Tor browser should connect with OnionShare. I suggest you to leave the default values.
The only downside of using OnionShare is you have to be very careful while sharing the URL to the recipient. Do not send it to via Facebook or any other traditional mail services. Follow the developer advice. Also, make sure your system is not compromised. If your system is comprised already, then there won't be any privacy and protection. Tor and OnionShare won't protect you from the virus affected or already-compromised systems.
And, that's all for now. Hope this was useful. More good stuffs to come. Stay tuned!
Cheers!
Resources:
Thanks for stopping by!
Help us to help you:
Have a Good day!!